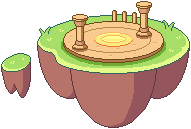 The Epics Subspace is a mysterious portal that leads to the realms of the fabled epics. The Epics Subspace has no guide. Instead, it features each of the epics in their natural habitats.
If you purchase one of those epics, you can battle in the Epic Arena to challenge hordes of enemies and to gain awesome rewards.
Locations
Ad blocker interference detected!
Wikia is a free-to-use site that makes money from advertising. We have a modified experience for viewers using ad blockers

Wikia is not accessible if you've made further modifications. Remove the custom ad blocker rule(s) and the page will load as expected.