You can get outfits in Prodigy pretty much anywhere. They come from completing quests, spinning twilight wheel and wheel of wonder, Getting them in battle chests, Or purchasing them from merchants and from completing bounties, arena matches, and more. Outfits also make you more stylish and cool! There are lots of outfits to get from. Sadly, the good or the more stylish ones are for members. You can choose any outfits you want to wear in your inventory.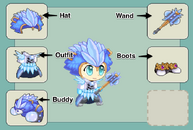 Ad blocker interference detected!
Wikia is a free-to-use site that makes money from advertising. We have a modified experience for viewers using ad blockers

Wikia is not accessible if you've made further modifications. Remove the custom ad blocker rule(s) and the page will load as expected.