As of September 13, 2018, all previous spells are obsolete and new spells have taken their place. Most of the information on this page is outdated.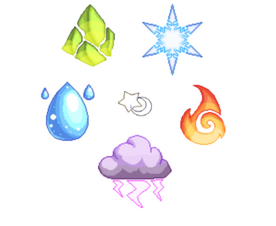 Spells are magic your wizard or pets uses to attack. Each element has and did contain in the far past six spells, excluding Epic Attacks. Below is an organized list of spells known to be used in-game. Currently, there are seven elements of spells.
New Spell Compilation
Name
Element
Strength (1-6, 6 being highest)
Range (Main (1) or All Targets (3))
Wands + Relics That Provide Spell
Fireball
Fire
1
1
Basic Fire Relic
Combustion
Fire
2
1
Strong Fire Relic
Volcannon
Fire
3
1
Powerful Fire Relic
Embers
Fire
4
3
Burning Brand of Bonfire,

Casting Candle, Draconyx, Dragon Staff, Fiery Dragon Baton, Firebrand, Fox Squire Blade, Luma Sun Ray Rod, Magite Staff, Magmischief Fire Rod, Phoenix Talon, Smoky Spatula, Staff of Flames, Sunburst Wand, Veggie Wand

Charclone
Fire
5
3
Dragon's Bane, Firewing, Flame Stick of Dragonfire, Perching Fire Dragon Lance, Pumpkin Wand, Sacred Flame, Spooky Candle
Wildfire
Fire
6
3
None.
Icicle Shard
Ice
1
1
Basic Ice Relic
Chill Out
Ice
2
1
Strong Ice Relic
Snowling Ball
Ice
3
1
Powerful Ice Relic
Winter's Breath
Ice
4
3
Arctursus Power Rod,

Crystal Wand, Diamond Staff, Frost Blade, Frosted Spear, Hockey Stick, Ice Cream Stack, Ice Crystal Snow Board, Lunar Staff, Mithril Staff, Mjoln-Ice, Pickaxe, Snow Shovel, Winter Bell

Snowflake Strike
Ice
5
3
Frozen Shard,
Spearicle Crush
Ice
6
3
None.
Spark Sphere
Storm
1
1
Basic Storm Relic
Shockwave
Storm
2
1
Strong Storm Relic
Ion Cannon
Storm
3
1
Powerful Storm Relic
Static Shock
Storm
4
3
Academy Standard Wand, Angel Wing, Angelic Shard, Big Hex Conductor, Candy Corn Wand, Cheeple's Toy Wand, Dream, Eclipse Sky Scythe, Icarus Axe, Iron Staff, Ivory Star, Mechano Mace, Power Orb, Remote Ship, Swarm of Bees, The Master of Trials, Toy Parrot, Wand Of Dreams, Wrench
Storm's Coming
Storm
5
3
Chrono Crusher, Wingblade
Unlimited Power
Storm
6
3
None.
Water Burst
Water
1
1
Basic Water Relic
Aqua Spear
Water
2
1
Strong Water Relic
Torrent
Water
3
1
Powerful Water Relic
Bubble Barrage
Water
4
3
Blue Pearl, Caster Clam, Chill Char Gladius, Diveodile Sea Staff, Hurricane, Onyx Staff, Pyrium Staff, Spiral Shell Spellcaster, Tidal Sphere, Tidus Blade of Waves
Splash Down
Water
5
3
Jellyfish Wand, Montoya's Blade, Titan Conqueror Power Katana, Turtle Topper
Downpourtal
Water
6
3
None.
Fungi Fling
Plant
1
1
Basic Plant Relic
Leaf Swarm
Plant
2
1
Strong Plant Relic
Forest's Hurricane
Plant
3
1
Powerful Plant Relic
Shrubbery Strike
Plant
4
3
Beastmaster Fang, Birch Staff, Bunny Scout Spear, Butterfly Wand, Dragonwing, Earthquake, Florafox Wand, Granite Staff, Nature's Bloom, Training Staff, Twisted Staff, Vita, Vorpald Blade, Wanderer's Staff
Ka-Pow Cabbage
Plant
5
3
Efflorescence, Fairy Sword
Overgrowth
Plant
6
3
None.
Starbit Blast
Astral
1
1
N/A
Star Cluster
Astral
4
3
N/A
Prism Blast
Astral
5
3
N/A
Light Wave
Astral
2
1
N/A
Falling Star Smash
Astral
3
1
N/A
Super Nova
Astral
6
3
N/A
Epic Attacks/Spells
The epics each have their own element, and all of the original 5 have their own Epic Attack.To get the Spell, you must buy the corresponding Toy for the Epic and unlock them to one player, Below is a list of the spells:
Each of the spells has an element, changed recently with multiple battle/combative updates. They all correspond with their owners' element.
Gallery
Astral Element Spells
Plant Element Spells
Storm Element Spells
Ice Element Spells
Water Element Spells
Fire Element Spells
Shadow Element Spells
Epic Spells